Colette came into our lives almost three years ago. We have never met face to face but we know she loves school and her family. She also works hard at home, loves to draw us pictures and often prays for us as we do the same for her. Colette lives in an area called Togo where their homes have dirt floors, cement walls and tin roofs. Most families make only $33 a month as street market vendors. Health concerns like malaria and worms plague her community. Some day we hope to meet her but for right now, miles apart from one another, we can still love on her. How do we this?
Through Compassion. Compassion is a wonderful organization whose ministry is to focus on the spiritual, economic, social and physical needs of children and their families in poverty. We love that their commitment to Christ is the heart of the ministry and bleeds into all that this organization does. Every child who participates in the Compassion program is given the opportunity to learn about Jesus and discover how to develop a lifelong relationship with God. This good news is modeled and shared in age-appropriate and culturally relevant ways — never through coercion. We love this!
We feel confident that our Colette is learning about Jesus each and every day and our financial contribution helps in doing that along with meeting some of her other needs. Wouldn't be an awesome way to celebrate the holiday season in your family by sponsoring a child through Compassion? It's only $38 a month. If it seems like a lot, I hear ya. However, we have managed to meet that amount even in months that we were tight on funds. (God is good!) We just think of Colette as one of our children and how we don't want to leave her without. I would suggest to pray about it and trust God in his leading.
Monday's Musings Purpose: I would LOVE! to have you share encouragement about being a child of God, being a wife, mothering, homemaking, homeschooling, recipes, etc. Truly anything that would encourage another is acceptable. (I reserve the right to remove anything I deem unacceptable. Keep in mind this is a Christian blog.) Please link directly to the post you're sharing. Be sure to link back here by using a text link or the logo below. This link up party stays open until Wednesday evening and I invite you to share the love by visiting another blog and encouraging them. Oh, and sometimes I share your posts on Pinterest, Twitter and/or Facebook because I desire for others to be blessed as I was. Thank you for stopping by and linking up. Now, let's get to sharing. Link following this post. Grab my button and place on your blog so others can join in.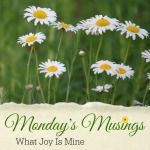 Get connected!! 
Stop by on Mondays to link up at Monday's Musings.
This post might contain affiliates. Read our disclosure. 
**If any of my photos anywhere on my blog catch your eye, please email me for permission to use them in any way. I appreciate your cooperation in helping my photography stay protected and properly credited. Thank you.
  Shared at
Teaching What Is Good