We're home. Our trip was fun with many wonderful memories created. It always goes by too fast but we're glad to be home. Here's a snippet of our trip in pictures. I'm excited to share it with you.
(The Pirate Ship that we rode. The Main Street Band playing Christmas tunes. One of the popcorn vendors that I make sure to get popcorn from at least once while in DL.)
(My Love & I waiting for the Christmas Parade to start. Me and Captain America. Tigger on his sleigh in the Christmas Parade.)
(Eeyore is one of my favorite characters so of course I took a photo with him. One shot of the World of Color water show in California Adventure. And another favorite treat of mine: the Mickey Mouse ice cream sandwich. )
(Fireworks over Cinderella's castle. Fabulous!)
Now it's time to share and visit.
Monday's Musings Purpose: I would LOVE! to have you share encouragement about being a child of God, being a wife, mothering, homemaking, homeschooling, recipes, etc. Truly anything that would encourage another is acceptable. (I reserve the right to remove anything I deem unacceptable. Keep in mind this is a Christian blog.) Please link directly to the post you're sharing. Be sure to link back here by using a text link or the logo below. This link up party stays open until Wednesday evening and I invite you to share the love by visiting another blog and encouraging them. Oh, and sometimes I share your posts on Pinterest, Twitter and/or Facebook because I desire for others to be blessed as I was. Thank you for stopping by and linking up. Now, let's get to sharing. Link following this post. Grab my button and place on your blog so others can join in.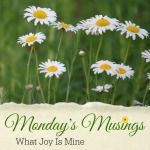 Get connected!! 
Stop by on Mondays to link up at Monday's Musings.
This post might contain affiliates. Read our disclosure. 
**If any of my photos anywhere on my blog catch your eye, please email me for permission to use them in any way. I appreciate your cooperation in helping my photography stay protected and properly credited. Thank you.