As you all know, we love to share ultimate bundles with you as evident through the Homemaking Bundle and the Healthy Living Bundle. In November, another fabulous bundle will be coming our way. The Ultimate Christian Living Bundle! Now this bundle is right up our alley. And, fellow bloggers, there is an awesome opportunity for you to become an affiliate for the bundle. The Christian Living Bundle has several well known Christian authors from times past to those of our day and time as well as audios. And there will be fabulous bonuses, too. Blogging friends, please pray and consider signing up and being an affiliate through our link.
Now, let's get to sharing our favorite posts!
Monday's Musings Purpose: I would LOVE! to have you share encouragement about being a child of God, being a wife, mothering, homemaking, homeschooling, recipes, etc. Truly anything that would encourage another is acceptable. (I reserve the right to remove anything I deem unacceptable. Keep in mind this is a Christian blog.) Please link directly to the post you're sharing. Be sure to link back here by using a text link or the logo below. This link up party stays open until Wednesday evening and I invite you to share the love by visiting another blog and encouraging them. Oh, and sometimes I share your posts on Pinterest, Twitter and/or Facebook because I desire for others to be blessed as I was. Thank you for stopping by and linking up. Now, let's get to sharing. Link following this post. Grab my button and place on your blog so others can join in.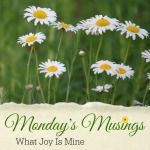 Get connected!! 
Stop by on Mondays to link up at Monday's Musings.
This post might contain affiliates. Read our disclosure. 
**If any of my photos anywhere on my blog catch your eye, please email me for permission to use them in any way. I appreciate your cooperation in helping my photography stay protected and properly credited. Thank you.