We arrived home yesterday afternoon from a weekend getaway with our kids, and my mom (our house and dog sitter) informed us that our refrigerator died. Yes….80% of our food had to be thrown away and my Love has had to figure out what is wrong with it. On top of that, he is leaving today for a work trip and doesn't want to leave us without a working refrigerator. Although this is not a big "storm" of life, it is frustrating nonetheless. Even these little storms of life serve a purpose to be appreciated along with those big storms that toss us about.
How do we go about appreciating the storms that life puts us through? I will be the first to admit, I don't like it when life is interrupted by a storm no matter how big or how little. They can create inconveniences and sometimes are hard to live through. Yet the storms in life are necessary for the Christian. It's in the storms that we experience pruning and growth in our faith. There is something we must learn from our storms. They are not in vain.

We serve a God of purpose. "For I know the plans I have for you, declares the Lord, plans for welfare and not for evil, to give you a future and a hope." (Jeremiah 29:11) God has designed each of our lives to fit us perfectly, including the storms. Those storms of life agree exactly with His plans for us. We should never fear them or be in doubt of God's plan. Appreciating the storms of life means accepting them as they happen and trusting God.
One thing we can hold onto is that knowing our storms, little and big, easy and hard, will pass eventually. It may be days, hours, years or even a lifetime but there will be an end. Matthew Henry writes in his commentary on Jeremiah 29, "The end they expect will come, though perhaps not when they expect it. Let them have patience til the fruit is ripe, and then they shall have it." God knows what he is doing in our lives. "Give thanks in all circumstances; for this is the will of God in Christ Jesus for you." (1 Thessalonians 5:18) 
Appreciating the storms of life is not easy and we will not do it in our strength but the Lord will give us what we need to be thankful. He will hold us up. He will provide our strength. He will walk alongside and even before us. Our storms will not consume us because God is faithful (Malachi 3:6) but they WILL change us and grow us up in Him.
Monday's Musings Purpose: I would LOVE! to have you share encouragement about being a child of God, being a wife, mothering, homemaking, homeschooling, recipes, etc. Truly anything that would encourage another is acceptable. (I reserve the right to remove anything I deem unacceptable. Keep in mind this is a Christian blog.) Please link directly to the post you're sharing. Be sure to link back here by using a text link or the logo below. This link up party stays open until Wednesday evening and I ask you to share the love by visiting another blog and encouraging them. Oh, and sometimes I share your posts on Pinterest, Twitter and/or Facebook because I desire for others to be blessed as I was. Thank you for stopping by and linking up. Now, let's get to sharing. Link following this post. Grab my button and place on your blog so others can join in.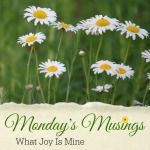 Get connected!! 
Stop by on Mondays to link up at Monday's Musings.
This post might contain affiliates. Read our disclosure. 
**If any of my photos anywhere on my blog catch your eye, please email me for permission to use them in any way. I appreciate your cooperation in helping my photography stay protected and properly credited. Thank you.
  (
Photo Source
)