Last week, I introduced to you the latest Ultimate Bundle: The Ultimate DIY Bundle. If you missed that post, you can find it HERE. Today, I want to share with you MY 8 reasons for loving the DIY bundle. Let's get to it!
My first 5 reasons for liking this bundle so much are:
1. Say NO to Auto by Kristen Duke: This short eBook walks you through 3 basic steps to show you how to shoot in manual mode. Once you learn how to shoot in manual mode, you won't look back at auto mode ever again. I plan to have my daughter, who is learning about photography, read this one for school. ($10 value)
2. A Beginner's Guide to Homemade Personal Care Products: This book provides 30 easy-to-follow recipes for some of your most-used personal care items. I am all about learning to make our toiletries at home. From deodorant to shaving cream to sugar scrubs, its found in this book. ($10.00 value)
3. Pioneering Today: A Homemade Christmas: With over 36 recipes, homemade gift ideas, and decor tutorials, you'll experience a simple Christmas with the joy the season offers. I can't wait to dig into this book with Christmas being one of my favorite celebrations. ($2.99 value)
4. Sew A Skirt: This book is designed for the beginner sewer who wants to learn to sew a custom-fitted skirt. It is a step by step process using your measurements. Now, this is one book I will definitely be putting to use. I love to wear skirts so I'm excited about this book being in the bundle. ($10.00 value)
5. DIY Organic Beauty Products: This book shares recipes for your own beauty products like shampoo and body sprays. More ideas to making our toiletries at home. ($24.95)
My last 3 reasons are:
6. 101 Days of Christmas:  This eBook includes 101 simple ideas and tutorials, plus bonus sections with even more ways to make Christmas meaningful for your family! Again, another book with ideas to make Christmas warm and welcoming. ($4.99 value)
7. Simply Canning:  This book gives step by step lessons on important safety information for both pressure canning and water bath canning. You will learn how to can tomatoes, green beans, meat, and fruit. Then have fun and create jam and jelly, marmalade, and fruit butters to stock your own pantry and give as gifts. I love to can so this book is one I know I will be reading. ($12.99 value)
8. ShootFlyShoot (Photography 101): This ecourse is a video training course designed for anyone who wants to learn how to shoot in manual mode and includes lessons from expert photographers. It's made up of 11 separate video classes and is almost three hours in length. Best part is your access never expires so you can revisit those videos you want as many times as you want. So go ahead and improve your photography! ($67 value)
(Read more about the books included.)
So these are my 8 reasons for loving the Ultimate DIY Bundle and I am looking forward to reading each book as well as viewing the photography videos. If I were to purchase all 8 of these books, I would fork out over $140!! (Not in my wallet.) The photography video series is $67 by itself….YET this DIY bundle is only $34.95! I would say that's a bargain. And it comes with 76 eBooks and eCourse altogether. If you haven't had a chance to view all it offers, I hope you take the time to look it over. I know you will find more than one eBook/eCourse that you will like making this bundle so worth the purchase.
Oh, and one more thing I think is great about this bundle is the FREE bonuses with one that I particularly am excited about. From Craftsy.com, you get to choose ONE FREE online class valued up to $71! Choices are Artisan Bread Making, The Perfect Cupcake, Gorgeous Garden Design, Scrapbooking Style Clean & Simple, Basics of Digital Photography, Sewing Custom Curtains/Draperies and Essential Techniques Every Knitter Should Know to name a few. There are more available. Remember today is the last day to get your hands on one. Lastly, thank you for purchasing through us.
Disclosure: I have included affiliate links in this post. Read the fine print about this bundle and read the answers tofrequently asked questions about the bundle. 
Now what wonderful post do you have to share this week? I read a several from last week and look forward to this week. Thank you for sharing!
Monday's Musings Purpose: I would LOVE! to have you share encouragement about being a child of God, being a wife, mothering, homemaking, homeschooling, recipes, etc. Truly anything that would encourage another is acceptable. (I reserve the right to remove anything I deem unacceptable. Keep in mind this is a Christian blog.) Please link directly to the post you're sharing. Be sure to link back here by using a text link or the logo below. This link up party stays open until Wednesday evening and I invite you to share the love by visiting another blog and encouraging them. Oh, and sometimes I share your posts on Pinterest, Twitter and/or Facebook because I desire for others to be blessed as I was. Thank you for stopping by and linking up. Now, let's get to sharing. Link following this post. Grab my button and place on your blog so others can join in.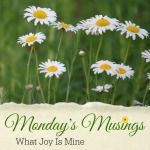 Get connected!! 
Stop by on Mondays to link up at Monday's Musings.
This post might contain affiliates. Read our disclosure. 
**Some photos on my blog are my own. If any of my photos anywhere on my blog catch your eye, please email me for permission to use them in any way. I appreciate your cooperation in helping my photography stay protected and properly credited. Thank you.